Ever since I was introduced to the Spanish language in high school, my dream was to visit the heartland responsible for its creation. I got a few days off for my daughter's winter break holiday and visiting Spain was soon a reality. I decided to settle with the Municipality of Barcelona.  Located in Northeastern Spain, Barcelona is a part of the Catalan region and an enchanting city at most.  It is exciting, rich in heritage, culture, history; has a moderate temperature and  is known globally for its futbol team FC Barcelona.
We traveled from John F Kennedy International airport in New York City to Barcelona (BCN) via Delta and arrived seven and a half hours later. Though a bit fatigued by the long flight, we made it.  The first thing that I needed to do was find accommodation. Sounds a bit unconventional I suppose, but I'm one of those travelers that usually wait last minute to book a hotel.  Normally, that task is done the night before I arrive at my destination or on the day of arrival.  Nevertheless, I chose Suites Avenue to spend the four days and three nights; perfect for a relatively short but intense introduction to the Barcelonian lifestyle. We took the Metro, the cheapest mode of transportation from the airport and was on our way to the hotel.
Accommodation
Located in Passeig de Gracia, Suites Avenue sits primarily on the most expensive street in Barcelona and by extension Spain. It is an avant-garde designed building with approximately 41 luxury tourist apartments and modernity in all forms and fashion.  Relatively inexpensive, this luxe apartment style hotel offers a homely experience with accessibility to most things that would make your stay comfortable and enjoyable.
The Sagrada de Familia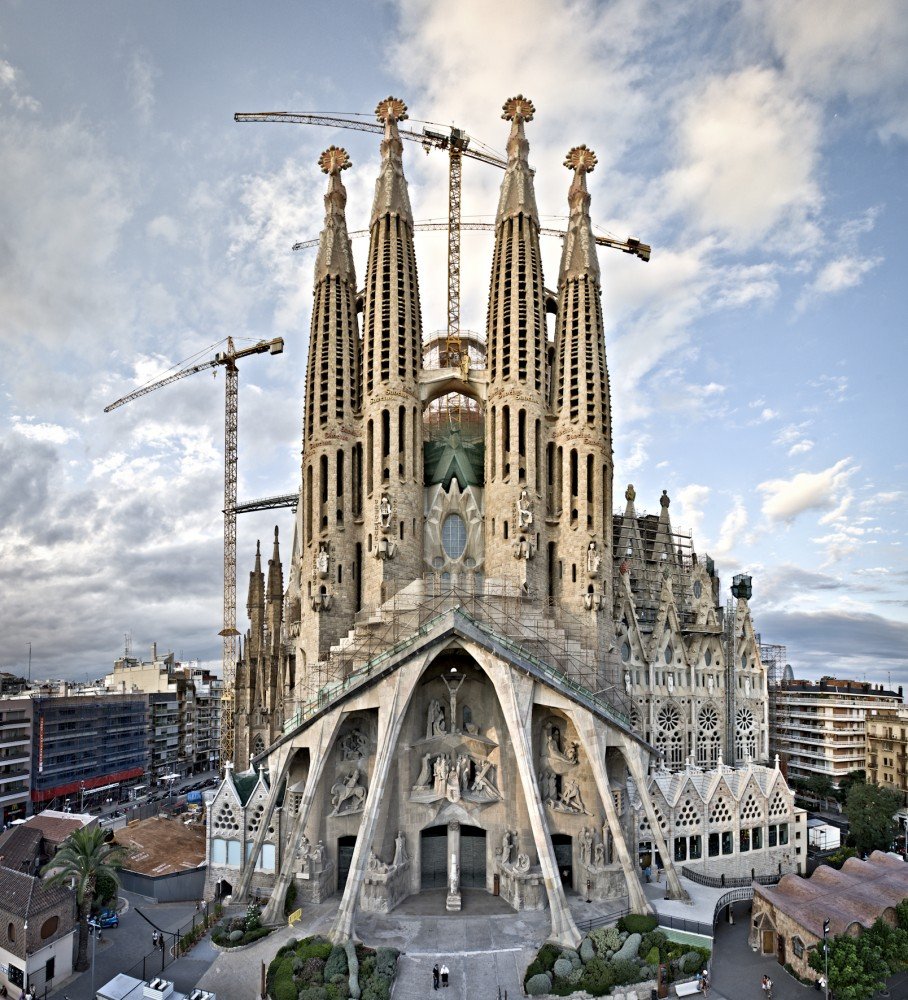 My first stop was to visit the Sagrada de Familia, Barcelona's most famous tourist attraction. The Basilica is an alluring depiction of Catalan modernism and architectural bliss, combining Gothic and curvilinear Art Nouveau forms, dedicated to Jesus, Mary and Joseph.  Inspired by the works of Catalan Architect, Antoni Gaudi, there isn't enough words to express the extraordinary beauty of this masterpiece.  Construction began in 1882 and at the time of Gaudi's death, less than a quarter of the project was completed. It is still ongoing and set to be fully done in 2026, 100 years after its initial start (this is not a typo).
An exterior view just was not enough and so we decided to step inside for a fee of €18 per adult while my daughter entered for free. Fortunately, we purchased tickets beforehand, as the Sagrada is not only famous for its  allure, but also for its insanely long lines.  Waiting in queue for over an hour is not uncommon. The best advice is to purchase tickets online before you visit.  Once inside, we were mesmerized by its ingenious design. Symbols dot every aspect of the Church.  Every door, every column, and almost every area has its own concrete or symbolic significance. I was informed by the guide that each symbol referenced the individual Catalan dioceses and Spanish dioceses, it also referenced every church in Latin America, on each of the five continents, to the apostles, to the great religious founders and most revered saints, the theological virtues, the sacraments, and more.
Interior of the Sagrada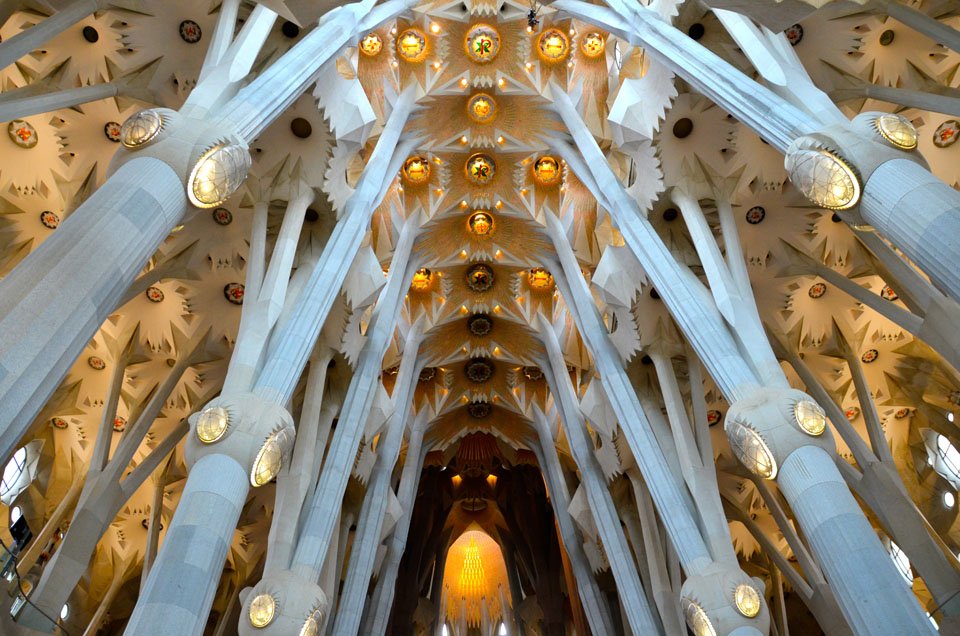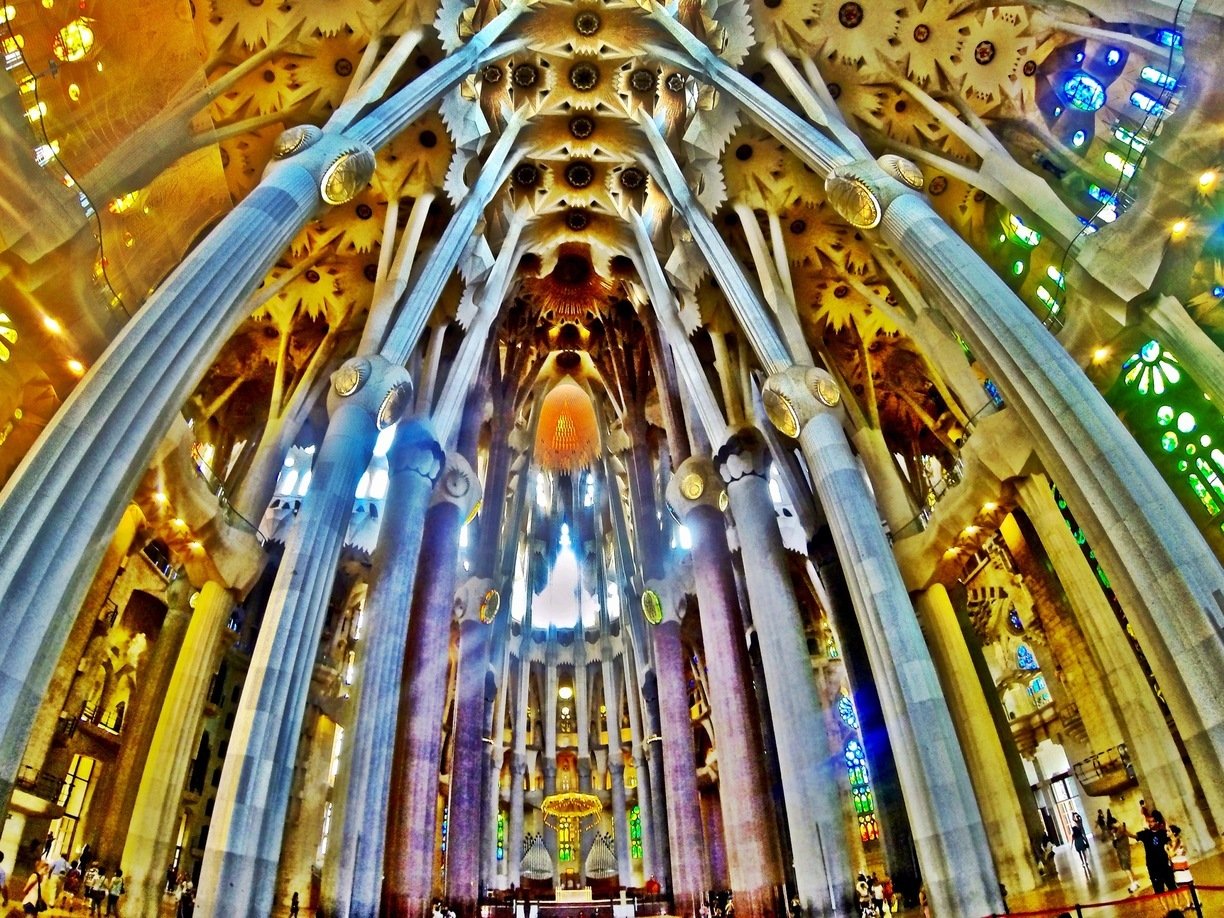 Movable Pulpit from the Crypt of the Sagrada de Familia
Enjoyably exhausting! After that explanation I was, however, the fact that I was standing in this magnificent structure quickly reminded me of how blessed I was.
Hanging Out at Barca's Camp Nou
Afer leaving the Basilica, Camp Nou was the next stop. My visit to this esteemed place, resident to the city's most revered product was exhilarating. After all, it is Europe's and Spain's largest stadium. The sheer thought of my presence in this huge space had me captivated. Equally important, FC Barcelona is one of the most widely supported teams globally and they also have the largest social media following in the world among sports teams. All in all, it was an extremely valuable experience as we toured the sights and stores throughout the arena.
El Mercat de la Boqueria/Las Ramblas Market
El Mercat de la Boqueria is definitely a food museum and a must for visitors to Barcelona looking for fresh items to replenish their food stock. Its colorful look and neatly organized stalls gives an impressive presentation. A variety of fruits, vegetables, meats, nuts and candy are some of the assortments that are readily available. Fresh cut coconut neatly packaged in plastic containers was the highlight for me.  After visiting the market, the call for food resonated and so we dined at a restaurant situated on the Avenue.
Dining
I was surprised at how inexpensive food was, as we placed our order. Of course, I had to have paella and tapas. Paella is the Spanish equivalent to Trinidad and Tobago's Pelau. Mine was a mixture of rice, mussels, lobster and crawfish served in a cast-iron skillet. There are several versions offered in Spain and contrary to my belief, I always thought that Paella was Spain's national dish. It is actually considered by the Spaniards to be a regional dish from Valencia. The paella made an assault on my taste buds in a strikingly weird way. It was delicious.  Instead of been satisfied, I yearned for more and with that I ordered a few tapas. A tapa is a Spanish cuisine or snack served hot or cold. There is really no definitive answer on its description as it can include minced chicken on bread to grilled sausages served in a small plate.
Paella
Tapas
It was time to explore the numerous designer shops positioned on both sides of  the Passeig, the most glamorous and expensive street in Spain. Versace, Dior, Rolex, Escada, Chanel and Hermes line this flagship street along with the prominent Casa Battlo, another of Gaudi's outstanding work.
Casa Battlo
In essence, I would visit Barcelona again. It is an incredible city full of architectural wonders and lots of things to do. Make a date to visit, you would not be disappointed.